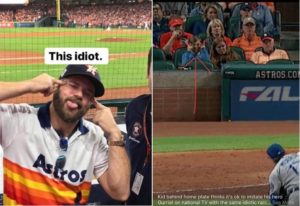 Many professional athletes are naturally role models to many children who want to be like them.  Thus, they should feel "extra" burdened to behave in a way that young people will look up to both on and off the field.
Unfortunately, some professionals don't seem to be aware of how much influence they have.  A recent case was Astro first baseman, Yuli Gurriel, who racially insensitive gesture during World Series game.  Whether it was a World Series game or not he should have been more careful in how he behaves.  As the picture shows, a young person imitated the same thing whether he understands what that gesture means or not.   Kids tend to look up to adults and imitate.
I am reminded of what the Lord told Moses to inform Israelites in Deut. 6:7, "Impress them on your children."  That word, "impress" has been challenging me.  I have to reflect and see how my children are "impressed" by how I live and conduct myself.  The previous verse tells us what we ought to "impress" our children with and that is to love the Lord with all our heart, soul and mind.
What are you "impressing" on your children these days?  I pray and hope that we would "impress" our children how we should behave with common courtesy, use common sense, and show respect to others especially those who are different than ourselves.
Have a blessed week!